Welcome to the MAGA music Website.
MAGA music is: Me, Mathias Garnås, from Stockholm, Sweden,
working full time as a freelance musician, singer,
songwriter, and producer. Feel free to take a look around.. If you want to get in touch with me please
send an e-mail under the contact section. MAGA music ...
Updated: 2020-10-07

'Tell me'
Brand new single from Kinship. Written by Hans Kronbrink. A blusey tune sung by Helena Hillerbo. Features me, Alexander Kronbrink, Sebastian Ågren and Stefan Blomquist.
More releases...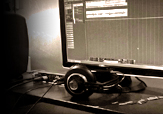 PlayAlong & StudyAlong...
If you would like to start play the bass
be sure to check out my basic bass course at
www.playalongmusic.com. It works well if you are a
beginner and are in need of guidence. The course is
in SWEDISH and teaches you to tune up, warm up,
play the songs that you love and so much more.