Contact MAGA music...
If you want to get in touch with MAGA music and me,
don't hesitate, just send an e-mail to the following mail adress:
info@magamusic.se

'Fyller mig med kraft'
Sofi Ek is a new Swedish recording artist based in Norrköping. Her music is emotional pop with influences from jazz and folk. This single is released the 29:th of March 2018. Listen to it on
Spotify
.
More releases...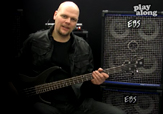 PlayAlong & StudyAlong...
If you would like to start play the bass
be sure to check out my basic bass course at
www.playalongmusic.com. It works well if you are a
beginner and are in need of guidence. The course is
in SWEDISH and teaches you to tune up, warm up,
play the songs that you love and so much more.