Contact MAGA music...
If you want to get in touch with MAGA music and me,
don't hesitate, just send an e-mail to the following mail adress:
info@magamusic.se

'De e jul nu'
This years christmas song written, produced and recorded by Ditte Lindbom at Young Music Sweden feat. Linnea Andersson and Teo Rösarne and me on bass and Fredric Österlund on drums. Listen to it on
Spotify
.
More releases...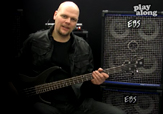 PlayAlong & StudyAlong...
If you would like to start play the bass
be sure to check out my basic bass course at
www.playalongmusic.com. It works well if you are a
beginner and are in need of guidence. The course is
in SWEDISH and teaches you to tune up, warm up,
play the songs that you love and so much more.