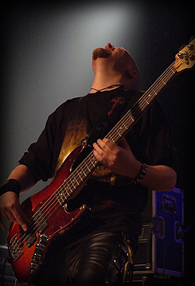 About me..
I was born in Stockholm, Sweden in February of 1976.
I started out as a drummer at the age of 10 and through
the years i also tried out the piano, guitar and the bass
and at the age of 17 i decided to start play the bass seriously. I've studied music for 10 years at different schools in Sweden.
Fredrika Bremer, StockholmsMusikKonservatorium,
Geijerskolan, RockMusikerLinjen-Fryshuset.
And finally The royal college of music in Stockholm
It was the 'Music and Media'-education program with
concentration songwriting and music production.
Today i'm working full time as a freelance musician,
singer, songwriter and producer. I've had the pleasure to work with artists such as
Jill Johnson, Shirley Clamp, Martin Stenmarck, Jan Johansen,
Tone Norum, Jimmy Jansson, Pernilla Wahlgren, Annika Ljungberg,
Anna Sahlene, Jennifer Brown, La Gaylia Frazier, Jessica Andersson,
Magnus Carlsson, Johan Becker, Herreys, Veronica Maggio, The Moniker,
Göran Edman, Niklas Wahlgren, Johan Boding, Maria Möller, Sonja Alden,
Sandra Dahlberg, Charlotte Perelli, Magnus Bäcklund, Jenny Silver,
Nordman, Lili & Susie, Linda Bengtzing, Anne-Lie Ryde, David Lindgren,
Peter Johansson, Markoolio, Kim Cesarion, Andreas Weise, Velvet, Dag Finn,
Daniel Lindström, Clas Yngström, Helena Paparizou, Molly Sandén,
Sofia Källgren, Johan Stengård, Martin Almgren, Suzzie Tapper,
Chris Kläfford, Janne Schaffer, Tommy Nilsson, Boris René,
Erik Linder, Wiktoria, Erik Segerstedt, Lina Hedlund and more.
ELECTRIC GUITARS:
Fender Telecaster
with Lundgren Vintage
Vertigo pickups
Sandberg California
ST-H
ACOUSTIC GUITARS:
Yamaha
FG-411-CE
KEYBOARDS:
Yamaha
Digital Piano P-105
Alesis QS7
76-note Keyboard
M-audio
Keystation 49 ...