Welcome to the MAGA music Website.
MAGA music is: Me, Mathias Garnås, from Stockholm, Sweden,
working as a freelance musician, singer, songwriter,
producer, jingle maker and teacher. Feel free to take a look around.. If you want to get in touch with me please
send an e-mail under the contact section. MAGA music ...
Updated: 2014-04-10
'Spunk Funk'
This is a jazzy/funky educational album for kids created by Lina Lövstrand & Erika Hammarberg.
Released in November 2013.
More releases...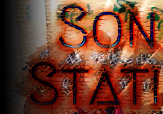 New record & songbook...
After two years of writing, recording and mixing
it's finally time for Sonic Station to release their second
album. 'Next Stop' will be released world wide by the label
Avenue of Allies the 29:th of March 2014.
The brand new 'Spunk Funk' Songbook is now ready.
Please visit www.spunkfunk.se for more information.