Welcome to the MAGA music Website.
MAGA music is: Me, Mathias Garnås, from Stockholm, Sweden,
working as a freelance musician, singer, songwriter,
producer, jingle maker and teacher. Feel free to take a look around.. If you want to get in touch with me please
send an e-mail under the contact section. MAGA music ...
Updated: 2013-12-07
'Spunk Funk'
This is a jazzy/funky educational album for kids created by Lina Lövstrand & Erika Hammarberg.
Released in November 2013.
More releases...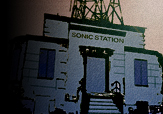 Spunk Funk & Sonic Station...
Two albums that i've participated in are soon to be released.
The first one is Spunk Funk. A jazzy/funky educational album
for kids where i play the bass. The other one is Sonic Station's
second album where i just finished recording bass and backing
vocals for two songs. Also be sure to come to Mosebacke Sthlm
the 18:th of September to see the show with Shirley Clamp.