Welcome to the MAGA music Website.
MAGA music is: Me, Mathias Garnås, from Stockholm, Sweden,
working full time as a freelance musician, singer,
songwriter, and producer. Feel free to take a look around.. If you want to get in touch with me please
send an e-mail under the contact section. MAGA music ...
Updated: 2023-09-29

'Ostara'
The latest release from Sandra Caroline where i play the bass and the piano. Other musicians involved are William Larsen on guitar and Fredric Fredo Österlund on drums. Mix and master by Leffe Andersson.
More releases...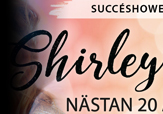 Tour with Shirley Clamp...
We´re on tour with Shirley Clamp and the
fantastic show 'Nästan 20 år på scen om man
avrundar uppåt'. If you want to come and see
the show book your tickets HERE.
I am also doing a lot of gigs with the band
Combo Granberg at the brand new cruise ship
Viking Glory. Hope to see you out there!