Welcome to the MAGA music Website.
MAGA music is: Me, Mathias Garnås, from Stockholm, Sweden,
working full time as a freelance musician, singer,
songwriter, and producer. Feel free to take a look around.. If you want to get in touch with me please
send an e-mail under the contact section. MAGA music ...
Updated: 2015-10-01

'Next Stop'
The 2:nd album from Sonic Station is here. Bandleader, Songwriter & Producer Alexander Kronbrink has dialed up the urgency and intensity on this one.
More releases...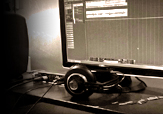 Working hard in my new studio..
I'm writing, recording and producing new
songs with Shirley Clamp and with the very talanted
13 year old Julia Lindmark in co-operation with
Voice Professional. I'm also writing with Alexander
Kronbrink for the third Sonic Station record and i'm
making more adaptive game music for Elias Software.