Welcome to the MAGA music Website.
MAGA music is: Me, Mathias Garnås, from Stockholm, Sweden,
working full time as a freelance musician, singer,
songwriter, and producer. Feel free to take a look around.. If you want to get in touch with me please
send an e-mail under the contact section. MAGA music ...
Updated: 2019-09-19

'De e jul nu'
This years christmas song written, produced and recorded by Ditte Lindbom at Young Music Sweden feat. Linnea Andersson and Teo Rösarne and me on bass and Fredric Österlund on drums. Listen to it on
Spotify
.
More releases...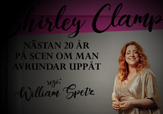 Shirley Clamp at Maximteatern...
I'm happy to tell you that i will be part
of the band in Shirley Clamps' solo show
at Maxim Teatern in Stockholm this autumn.
The show is directed by William Spetz and will
be full of music, laughs and maby some tears.
Get your tickets at maximteatern.com!